Our pet transport box now comes with a turkey base and double ply cardboard for added alround strength in the bottom and the sides.
We are now even more sure our peafowl will get to you in the best of health and not stressed. You can purchase our transport boxes at our Online store along with other animal related products.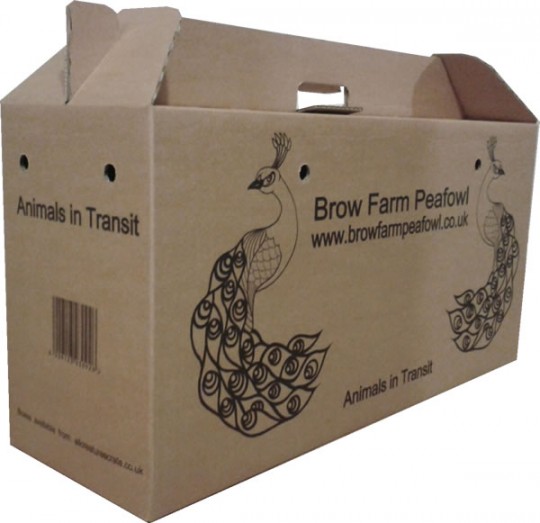 Description
Our pet transport boxes are manufactured using quality British milled cardboard not cheap imports guaranteed.
We had these boxes made for all the animals that leave our farm each year. So we made them strong, easy to make up and no need for tape or staples to keep them together.
Measures:
Length 25.25inch (64.5cm)
Height 12.5-inch(31.5cm)
Width 8.25-inch (21cm)
Our carriers are ideal for visits to the Vet or journeys in the car etc. for many types of animals from small dogs to baby chicks and anything in-between. We ship peafowl, waterfowl and poultry all over the UK in these boxes.
When our couriers who we use to transport our animals and birds saw our boxes they started carrying them on their vans so they could re-box animals that are given to them in badly made, thin walled, poorly ventilated boxes.
The carriers have been designed with a carry handle that folds in on its self like a lock and also gives more comport while you carry it. Incorporated air holes around the whole box and in the top so you can pack boxes side by side knowing the animals within will not over heat and are still getting a good air supply.
WHY CHOOSE OUR CARDBOARD PET TRANSPORT BOXES/CARRIERS?
The Pet Carriers being cardbaord, these are strong but light and can easible be folded back down for storage.
They are made from 100% recyclable cardboard and can be disposed of after use if they have been messed in – much more hygenic
Complete with air holes to keep your pet safe and comfortable
Cheap alternative to heavier carriers
Pet carrier box provides a safe and worry-free way to transport small pets.
The Pet Carriers can be used to carry guinea pigs, kittens, puppies, chickens, ducks, peafowl and much more.
Made of sturdy board, the box opens easily and is ready to use. It has vent holes for air circulation and a convenient carrying handle.
Measures:
Length 25.25inch (64.5cm)
Height 12.5-inch(31.5cm)
Width 8.25-inch (21cm)